"New Routes for Walking in Japan 100 Selections of Nostalgic Footpaths"  application form [Must visit] list.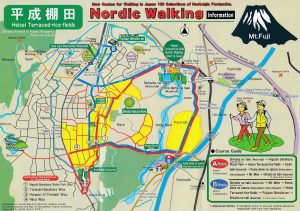 The name of the Footpaths: Heisei Terraced-rice-fields Nordic Walking.

"Landscape Award of Shizuoka Prefecture"

"Landscape Award of Fujinomiya City"

2 courses are listed inside this leaflet. Both courses are 5kms and have the same starting point but have different scenic routes.

Please use this leaflet to help guide you on your walk.

New Routes for Walking in Japan 100 Selections

Translation by Yasuda Women`s University students at Current Business Dep. and International Tourism and Business Dep. supervised by Junichi Hatai at in 2016.
【Shiraito no taki(Waterfall)】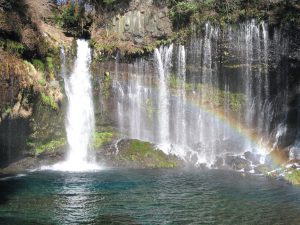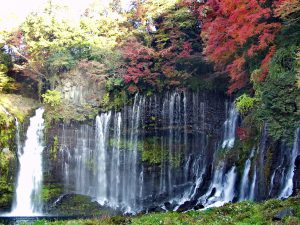 It looks like "the white-thread waterfall" with the ground water coming out of the World Heritage listed Mt. Fuji and spreads out 128 meters wide. It is full of negative ion in the waterfall basin which makes a rainbow and you are veiled. Samurai General Minamoto no Yoritomo composed the short poem called "tanka"; "kono ue ni ikanaru hime ya owasuran, odamaki nagasu shira-ito no taki" meaning"Shira-ito Falls looks like a spool of linen thread and I wonder what kind of princess resides on the top of this waterfall." If you saw the mysterious beauty of this waterfall, you hope to see it forever.
【Oto-dome no taki(Waterfall)】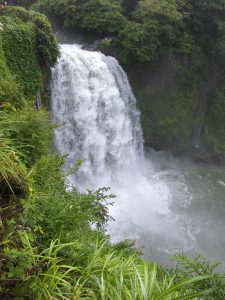 It is 26 meters high and 3 meters wide on the eastern side of the hill near Shiraito Falls. It makes an ear-splitting noise. It has a legendary story; when Minamoto no Yoritomo came here for hunting called `Fuji maki-gari`, his men, the Soga brothers, hid behind a rock and whispered to each other about how to kill their father`s enemy Kudo Suketsune, and the waterfall stopped making noise so that they could manage the discussion without anyone hearing them.
【Koma-dome no Sakura (Cherry blossom)】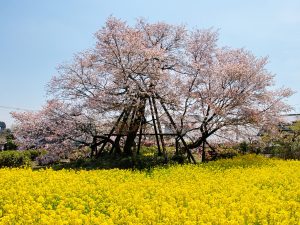 This house belonging to the Ide family has been preserved since Miyamoto-no Yoritomo made headquarters there in 1193 for a hunting tour. The cherry blossom tree in front of the gate is very famous because Yoritomo tied his horse to it. That`s why it is called "Koma dome no Sakura": `koma` meaning horse and `tome or dome` meaning to stop or tie down. It is over 800 years old and one of the five oldest cherry blossom trees in Japan. It has been designated a Special Natural Monument. The best season to look at it is spring in April.
【Asahi Daki (Waterfall)】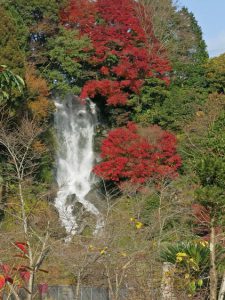 The upper stream of Asahi Waterfall is the waterway that local village people had dug and built for more than ten years in the Muromachi era (16th century). If you see it from the bottom, you feel scared due to its height of 20 meters. There is a rest room and you can have a break. In autumn, it is decorated by beautiful red leaves which you will be pleased to see.
This area is on the bottom section so that you must walk up hills to other areas.
【Heisei terraced-rice-fields】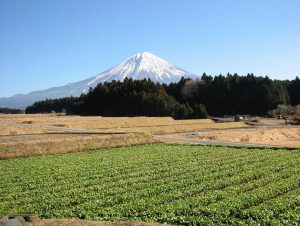 It became a large scaled Terraced‐rice‐fields with advancements in technology. Please look at the aerial photograph taken in 1985. Our ancestors` hardships can be recalled. There are road signs at the corner for four roads running north and south.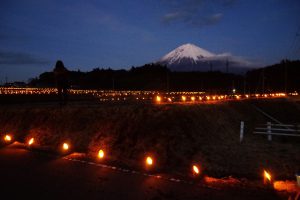 Nakahara・Hongen-ji way is the main road at the intersection.
【Hongen‐ji(Temple)】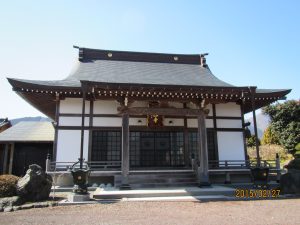 "Hongen-ji used to be a private school for the children living in the neighborhood in Edo era (19th century). This school was called Takane-sha in the Meiji era (1860s) and afterward transformed into the six-year primary school with the two year junior high school in the new education system. In the Showa era (1925-1989), the young people worshiped Mt.Fuji and SurugaBay at the garden of Hongenji, and talked about their Utopia.
【Kudo Suketsune no haka( Tomb)】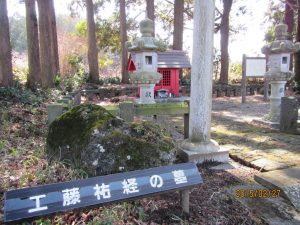 It is the ruin of Kudo Suketsune's Jinya (regional government office) where the Soga brothers attacked while their boss Yoritomo enjoyed hunting in 1193. It is also the place where the Soga brothers succeeded in killing their father`s enemy Suketsune.
【Soga no kakure iwa(a rock to hide)】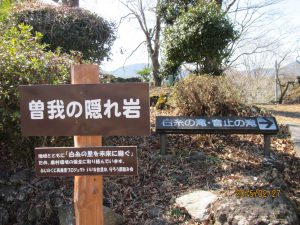 It is said that the Soga brothers hid themselves behind this rock until night on the rainy day of May 27th, 1193, so they could carry out their revenge for their father.
【Harakawa‐Shin‐sui Koen(Harakawa park to get familiar to the water)】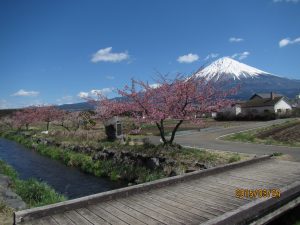 Hara River is the waterway built by the local villagers in the Muromachi era (1392-1573). In 1996, it was planned that the Hara River would be reinforced with concrete, but the local people successfully asked the government to reconsider this plan to preserve the old scenery.Local people cooperated to plant plum trees, cherry trees and hydrangeas to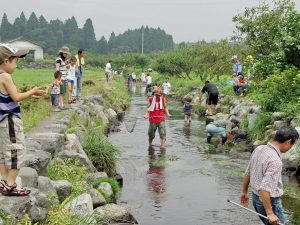 make it beautiful. The water temperature is around 13℃ even in August summer, and children always enjoy trout fishing and playing around. This park and the area around Fujisan- Shiraito-an are the best scenic spots to view Mt.Fuji.
【Higashi-Shimo-hara-Shin-sui Koen(Higashi-Shimo-hara park to get familiar to the water)】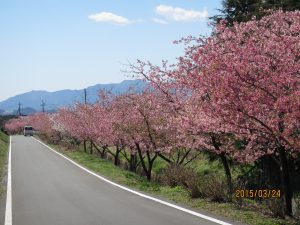 You come up to this area walking up the slope looking at Mt. Fuji, plum trees and cherry trees planted on the bank of the drainage watercourse on the left. The residents nearby make this area tidy and beautiful corporately.
【Fujisan Shiraito An(Handmade buckwheat noodles restaurant)】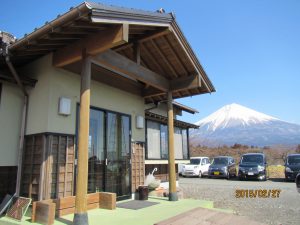 This is the soba (buckwheat) noodle restaurant operated by the local village ladies. Many visitors take photos of Mt. Fuji with beautiful flowers such as plum flowers, rape blossoms, cherry blossoms and hydrangea. Why don`t you take a break and taste buckwheat noodles overlooking Mt. Fuji?                   There is a restroom.
【O-bin-mizu / Bin-nade-mizu(water to comb)】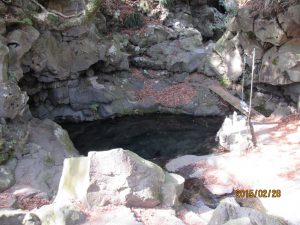 It's in the western side of Shiraito Falls. It is said that Minamoto no Yoritomo combed his hair with the spring water here while hunting. There are strange rocks around here and the unique and strong atmosphere makes it known as a power spot. The people in ancient times said, "you might see an immortal playing around."
【Monju-do(Temple)】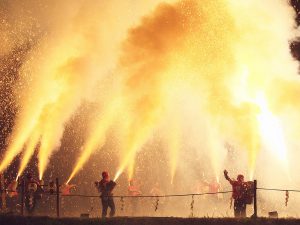 This is the temple – worshiping Kinujiga Buddhist saint. It is said that the head of the Kigawa family, who succeeded as a professional carpenter, went to Ichikawa Daimon for work. He brought back a baby pine tree in 1671, but forgot to plant it. Seven days later he made a promise that he was going to plant it and if it survived, he would build the temple. He moved the Kinujiga Buddhist saint in Ichikawa Daimon to this area.Now the Monju festival is held on Aug.19th and the sky is filled with hand-held fireworks every year.
【Shiraito Natural Park】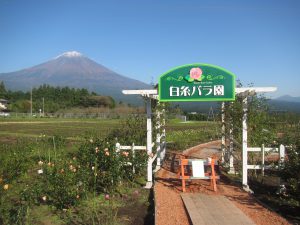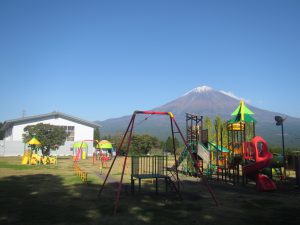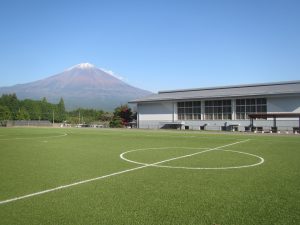 It is a wide open space 800m west from Shira-ito-falls. It has futsal courts, a gym, playground equipment, a rose garden and various all-season flowers. You can enjoy the gigantic view of Mt. Fuji with the path to Shira-ito-falls. There are ample parking lots and toilets and rest areas. We are now building a facility to experience making "washi (Japanese paper)"